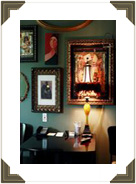 There are different functions for personal property appraisals. The function of an appraisal identifies how an appraisal is to be used. It is the way you, the client, will use the report. You may want to obtain insurance coverage, determine a casualty loss deduction, determine loan collateral, determine proceeds from a liquidation, establish an amount for a non-cash charitable contribution, determine a fair asking or buying price, or determine federal or state estate tax liabilities. But did you know that the same item may have many different appraised values depending on how you intend to use the appraisal? For instance, a value for insurance may be very different than a value for estate tax, consumer resale, or charitable contribution.
What Do the Different Values Mean?
After the function has been decided, your appraiser will provide the values. For instance, insurance appraisals are written to provide replacement cost should a disaster occur and estate settlement appraisals are written to provide fair market value to satisfy the courts and IRS.
Qualified, educated appraisers understand the many different types of values, assigned uses, and market levels. A trained appraiser can work with you to choose the proper type of value so that you can use the appraisal correctly and effectively.
Other Considerations
In addition to monetary appraisals, an appraiser is often asked to form an opinion about non-monetary issues. You may be interested in the authenticity of a work of art, the degree of originality of a piece of furniture, the quality of construction, the market in which an item could be sold in the most lucrative manner or the pre-existing condition of an item in a damage claims appraisal.
There may be times when you do not need a formal appraisal but rather need a consultation with an appraiser or a verbal approximation of value. The verbal approximation of value should not be considered an appraisal. A formal appraisal is a written report signed by the appraiser and requires market and value analysis and research, elements lacking in a verbal approximation of value.
The Skill, the Style, the Specialists.
Some information courtesy of the International Society of Appraiser's brochure, "Be Certain of Its Value," a consumer's guide to hiring a competent personal property appraiser.