The Specialists of the South, Inc. began handling auctions for our clients in 2004. In many cases, auctions may be the best means to handle the sale of your personal property. Currently, auctions are extremely popular with the buying public. With the advent of television programs such as The Antiques Roadshow and Cash in the Attic, the interest in antiques and collectibles has grown. Realtors, attorneys, bank trust, and loan officers are all familiar and comfortable with the auction process. Regardless of the reason for your auction, our computerized program provides these third parties with the information necessary to satisfy their most demanding needs.
Find Out About Our Auction Program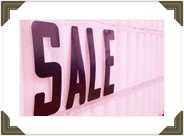 Call on us to help you settle an estate, downsize, or liquidate. We have developed a professional program that allows our clients to leave the site sale in our hands and not to worry about any details. As part of our process, a detailed inventory is made of your sale items. We also arrange your merchandise attractively and lot your items in an interesting and enticing way as we prepare to bring your things to auction. We handle all advertising including sending emails to many customers that have indicated a particular interest in attending our sales. A preview is arranged prior to the auction. No detail is overlooked.
If you do not have a large amount of goods to auction, there is always the possibility of combining your items with those of another client. Often this gives both clients the benefit of being able to offer an interesting sale full of things that complement each other.
The Skill, the Style, the Specialists.