One of the last areas to address in a decorating scheme is your hard or soft window treatments. But, what a difference this finishing touch can make in your home environment.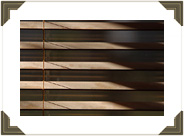 Hard Window Treatments
Hard window treatments are blinds, vertical blinds, and shutters. Often viewed as more utilitarian in the past, today's treatments can be attractive and even exciting in the new materials and sizes available. We're not talking about the old finger-slicing Venetian blinds of your mother's day. In a myriad of colors and sizes and in materials such as split bamboo, these treatments have much to offer to your decorating scheme.
Soft Window Treatments
Soft window treatments are those that utilize fabrics in draperies, sheers, and top treatments. Fabrics available today are anything but boring. Top treatments are only limited by your imagination, and the fabrics and trims available at the Specialists of the South are stunning.
We Have a Passion for Window Treatments
The Specialists of the South, Inc. has a staff decorator that loves to do window treatments. That enthusiasm translates to achieving some of the most interesting and visually pleasing designs available. Whether your need is for hard or soft treatments or both, the Specialists of the South can supply the right products and styles.
Our extensive fabric samples allow you to select from a wide array of textures and patterns to meet your style. Our workroom offers quality workmanship and exceptional quality control of your window treatments.
Need Help With Installation?
If you need assistance, window treatment installation services are available. The installation crew at the Specialists of the South is dedicated to making sure that your window treatments are installed with care. Our staff is fully trained to put your window treatment in place, however complicated.
The Skill, the Style, the Specialists.