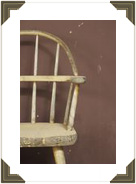 The Specialists of the South, Inc. has the skill and artistry to refinish and paint almost any piece of wood or metal furniture. In fact, there are even some plastics that can be refinished!
The decorating staff at the Specialists of the South is available to assist you in selecting the right color paint or stain for your job. We also provide services to match a finish to your existing sample.
We Have the Experience to Handle All of Your Jobs
Regardless of whether your project is small, such as a family high chair, or large, such as your dining room or bedroom suite, the Specialists of the South are happy to assist you in refinishing your piece to a high level of quality. With our refined process, you will be involved in each step as your piece is refinished. We can also handle any size residential or commercial custom or contract job. From restaurant tables and chairs to church pews, we can handle the uniqueness of your job. We are especially attuned to a quick turnaround for condo makeovers.
Have Your Furniture Refinished the Right Way
Specialist of the South's wealth of experience in furniture refinishing gives us the expertise to know what is right for your job. Should your job encompass scratched or marred surfaces, we will know what level of deluxing or refinishing is needed. Often, stripping furniture to the bare wood is not the answer. You may have an antique that in fact should not be stripped. However, if stripping your furniture is the answer, it can be accomplished for even the most ornately carved pieces of furniture. Our knowledgeable furniture refinisher will help guide you in deciding what level of finish refurbishing your furniture requires.
The Skill, The Style, The Specialists.